April 6, 2015
Creating a moment with one of my best friends, Lance Brown. I love that this was captured raw and on video by Allen J. Oliver Productions.
November 2, 2012
After playing "My Girl" a few times live and getting to play it at the lunch hour for 106.9 THE RANCH, I decided to take it to the studio and let it be the first to be recorded on album #2. I'm looking forward to 2013. My wife and I are expecting the arrival of our baby boy the first part of December so I will take some time off, but after the dust settles, hope to make a few extra strides and add a few more cities to the hit list! Be sure to check out our latest merch and pick up the album if you haven't already! As always – THANK YOU FOR THE SUPPORT!
June 22, 2012
Thank you Shiner & KHYI for the opportunity to compete in SRS 2012 this year! What a great night! Hope to run into you guys again sometime soon!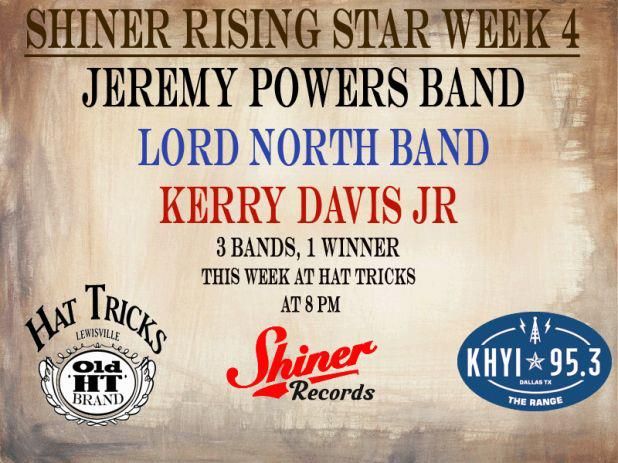 January 29, 2012
First of all, thank you to everyone that made it out the acoustic show with Cory Morrow last night!!! Such a great listening crowd and I really enjoyed meeting the new faces. There are some videos from last night of the new material that will hopefully find its way on the upcoming album in a few months. We are a little more than half way finished with writing new material. Just a few more and then it's time for the studio. For those of you on the FTW side of town, be sure to mark your calendar for our next full band show at Filthy McNasty with my good buddy, Gary Kyle.
December 7, 2011
The Story Behind "I Wish Heaven Had A Telephone"
The idea for this song came from a post on Facebook.
A friend of mine that I had not spoken to in years posted this one day and it stuck with me. I had no idea how or when her dad passed away, I just knew the wish was something that many of us experience – a wish for one more conversation with someone we love who is no longer here.
The death of a loved one is probably a time that makes us most willing and open to reach out to God.  For some people, this is one of the few times they will "give God a chance."
The concept of this song is that we will never understand why some things happen on Earth – children dying, loved ones taken way too soon, cancer claiming a young mother or father, leaving behind young children.  In those moments, we reach out to God. We want to know why, we want some answer to appear to us because if we can make sense of a tragedy, it might be easier to accept.
This song takes you through a few conversations between those here on Earth and those in Heaven.  The first two verses are true stories of actual events. The bridge represents the question you ask yourself when you look into the sky, see the stars and wonder if they can hear you or if they know how much you miss them.  The last verse is the response.  From Heaven, they too wish Heaven had a telephone.  They would talk to us and tell us how it turns out.….  "I was there when Valley was born, we all were, and we were cheering along with you" or "Yes, I did die in the car wreck, but 11 people who were far from God prayed for the very first time.  Trust me, it was worth it."
When you hear this song, and you think of that someone, remember, God is good, always.
November 16, 2011
First of all, thank you to the people that have continued to support us! We also want to wish our good buddy and guitar player – Nate Van Horn – well on his next journey in life. God has big plans for him and our love, support and prayers are with him!!!
We have some new video's posted from the show with Max Stalling, be sure to check them out!!!
We are in the studio recording "I Wish Heaven Had a Telephone". Check out the sneak peak from our show the other night!
Be sure to sign up on our mailing list so you will get updates as our upcoming shows are posted.
August 16, 2011
Our new website is up and running!!!  Thank you Lance Brown for hooking us up!